Our History
Over the past 15 years Sealumet group has manufactured, supplied and fabricated Industrial, Commercial, Thermal, Acoustic and Marine Jacketing, Insulation and Ancillaries on a worldwide basis from our facilities in Perth (HQ), Singapore (Cherrit International), UAE (ex ITW Insulation Systems FZE), and Europe.
We understand our clients' needs and we have the technical products and resources available to help you meet the needs of your clients.
With a combined warehouse capacity spanning 4 countries & 6 sites covering more than 8,500 sqm, manufacturing and supply are our core business.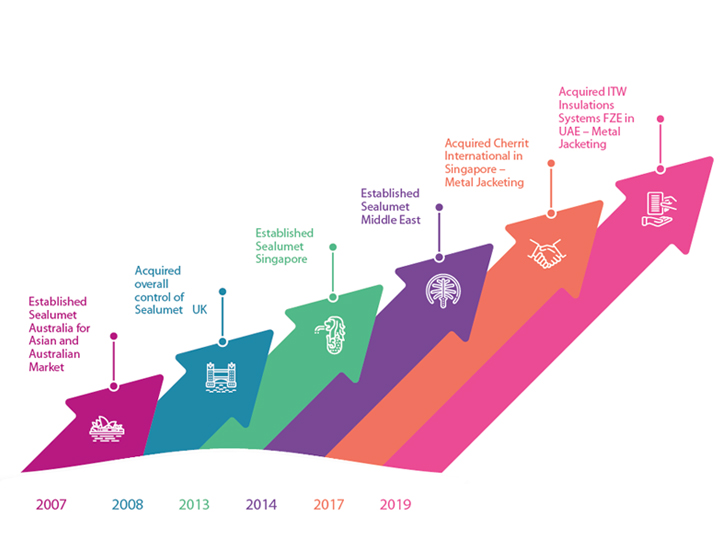 This ability to carry & mobilise greater volumes of stock, combined with our ability to bundle and stage project-specific supply, makes Sealumet the perfect supply partner.
The Sealumet journey began in 1975 as a UK-registered company whose core purpose was to supply the HVAC, Mining, Commercial and Industrial market.
Sealumet  Australia, was established in 2007. The new Directors quickly set about utilising their extensive experience &  knowledge in the field of Industrial Services to create a truly global enterprise supplying projects spanning Australia, South East Asia, the UK, Russia and the Middle  East.
Over this time Sealumet has continued to grow from strength to strength, acquiring Cherrit International in Singapore in 2017 and ITW Insulations Systems FZE in the UAE 2019.
As an ISO Certified Group combined with an unwavering commitment to quality, Sealumet has become a leading Manufacturer, Distributor and Supplier of Thermal & Acoustic Insulation materials and specialised Stainless Steel and Aluminium products for the Industrial, Commercial and Marine industries.
The Sealumet team has grown to more than 50 staff members across our manufacturing, distribution, and warehousing facilities in Perth (HQ), Singapore, UAE, and Europe. Their knowledge and experience, combined with our warehouse capacity of approximately 8,500 sqm enables Sealumet to meet the often complex needs of our customers, where ever they may be.
For further information, please view our Sealumet Profile.
Sealumet is an ISO Certified Group.
Sealumet Group maintains the highest quality standards keeping in mind customer satisfaction, timely delivery, product excellence, operational safety and environmental regulations. The Group is committed to  drive continual improvement and innovation based upon efficient business processes, well-defined measurements, best practices, and customer surveys ensuring their long-term success through the understanding of their needs and the needs of their customers as well.
Sealumet's commitment to be the reliable one-stop-shop with global reach for all Insulation Solutions is underlined by the following certifications.
ISO Certifications:
ISO 9001: 2015 Quality Management System (QMS)
ISO 14001:2015 Environmental Management System (EMS)
ISO 45001:2018 Occupational Health & Safety Management System (OHSMS)